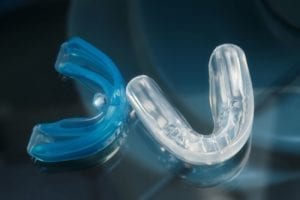 At Linton Dental, we provide custom mouthguards to many of our patients seeking additional tooth protection. Mouthguards are very multifunctional in the world of dentistry. As your trusted dentist in Peachtree City, GA, we wanted to provide some information on how we utilize custom mouthguards to serve a variety of our patients. Here are three common uses for custom mouthguards:
Mouthguards Protect Your Teeth During Impact Sports
The most obvious use of a mouthguard is that it protects your teeth during impact sports. Sports like football, wrestling, or gymnastics require their participants to utilize mouthguards while engaging in the sport. This is because dental damage can occur at any time. You don't want to have to deal with the consequences of unexpected tooth loss or damage. Mouthguards are cost-effective oral appliances that prevent expensive dental damage and help you maintain your dental health while also enjoying your favorite impact sports. For the best protection for your teeth, we suggestion choosing custom mouthguards instead of over-the-counter options, as custom mouthguards will give you a more secure and comfortable fit.
Mouthguards Prevent You From Grinding Your Teeth Together
Teeth grinding can cause major issues like jaw pain, tension headaches, and dental damage. Worn down teeth are the most common symptom of teeth grinding. Many patients are unaware that they've been grinding their teeth together because they do so while they sleep. Wearing a mouthguard to bed will prevent you from grinding your teeth together while you sleep. Even if you manage to grind your teeth, the plastic material with absorb the impact and prevent you from damaging your teeth.
Mouthguards Help Treat TMJ Disorder Symptoms
If you commonly wake up with a sore jaw or facial muscles, you may have a TMJ disorder. TMJ disorders occur when a patient experients frequent bouts of jaw pain throughout the day. This jaw pain can be caused by a lot of things including missing teeth, misaligned bite patterns, a history of teeth grinding, or stress. To help ease their jaw pain, patients are encouraged to wear a custom mouthguard while they sleep. Not only will it prevent them from grinding their teeth together but it will also hold their jaw in a healthier resting position. When they wake up, they'll be waking up with fully rested facial muscles instead of muscle tension from the night before.
Schedule An Appointment
If you are interested in having a custom mouthguard made for yourself or a loved one, please contact Linton Dental. Schedule an appointment for a consultation with Dr. Brian Linton. We look forward to seeing you soon.